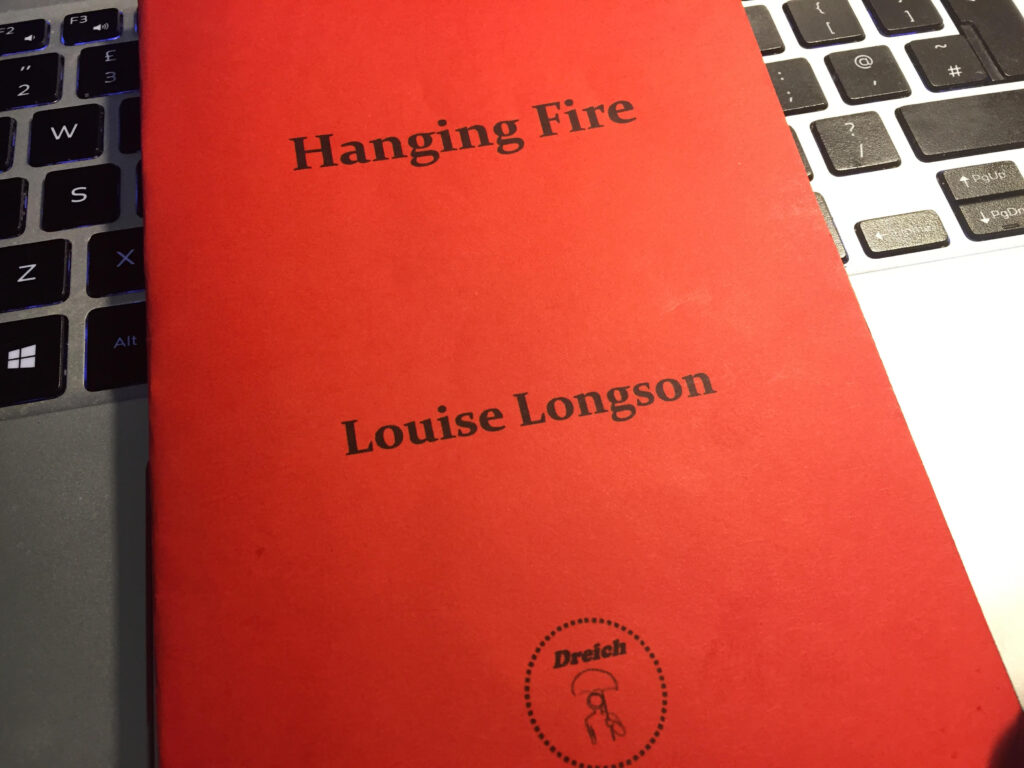 Hanging Fire is a chapbook containing 16 beautifully crafted poems. To me, it feels like a collection of pagan poems which speak of life-mysteries as much as day-to-day reality. Each one has the polished feel of careful editing where the removal of superfluous words leaves clean, visual images. Some of these jump off the page while others are more still and quiet. Only poetry can summon such a broad range of emotional responses, and Louise crafts this effect with great skill.
There's a mixture of styles and design. Traditional equal-length stanzas in Sunset at Samhain, which I read as an account of Persephone's descent into the underworld, mingle with unbroken lines in The Star Paradox, an unpunctuated flow like a continual thread of an idea, or thought stream. The line 'at the same time', is repeated four times in its 17 lines. It should be too much but it isn't. Instead, the refrain brings together the elements of the poem, where what we see today in the stars has already long since happened.
Star watching is the closest we can get to time travel. It's like being in a museum where objects are still present, despite their owners being dead, often for millennia. On those rare occasions when you get to hold something of great antiquity, you can close your eyes and imagine the past in the same place as the present. Reading The Star Paradox gifts a true poetic mystery.
Evening: Overlooking Padstow Harbour is another poem without pauses. The reader finds themself alongside the narrator, looking out through 'a picture window     our aquarium…'  where the boundary between earth and water is blurred through phrases like the 'shoals of sightseers'  who are 'swimming by' with 'bubbles pluming     rising    into the air…'
This blurring of worlds can also be found in the title poem Hanging Fire. Here the forest 'Sometimes feels like an underwater world…' where trees are 'barnacled with lichen', on a 'coral reef of leaves and pine needles', alongside the wonderful image of tidal light 'ebbing and flowing with the wind'. Even the quiet is described in watery terms as ' a submerged hush.' The final lines of this poem refer to the Hanging Fire sculpture by Cornelia Parker.
It seems as old as the forest; an ancient rusting
fire, a flame that perpetually burns.
The flames are symbolic images of perpetual fire, hanging from the trees in a circle, as if fragments of the sun have fallen and been captured in cast iron.
Something I love is when poetry introduces me to something new. Thanks to the internet, I willingly fall down rabbit holes full of associations. With Louise's collection, it was the title poem Hanging Fire which led me to the Forest of Dean Sculpture Trail by Cornelia Parker and others, before the rabbit hole extended off into different directions.
The trail looks wonderful and it's a shame it's so far away from the northern town where I live. Cornelia Parker has several sculptures there, including one of leaves positioned like fungi on the bark of a tree. With this in mind, re-reading Louise's collection made me think about sculptures as poems.
Poems can raise visual images in your mind. The moon poems Selene and Moonbathing made me think of the silver light of a full moon, rising over fields and woods in the distance. Visual art triggers specific words and phrases. It's a two-way relationship and, thanks to Louise, I'm now wondering about this further.
An example of sculpture as poetry is Strandbeest, a kinetic structure by Theo Jansen. Strandbeest is a giant object with moving parts which is propelled by the wind down a beach. The giant skeleton, constructed from plastic tubing, moves with incredible grace. It's also a little disturbing, almost the stuff of nightmares, like a poem can touch home in ways you might not have chosen to experience.
One such poem in Hanging Fire was A Ritual to Escape Madness at Nightfall. The opening line 'When the moon rises, I must gather my wits' set me up to expect a sabbat, or some other ritual ceremony, maybe in the woods at night. I didn't expect what followed. It's an example of a poem containing the unexpected. Its final lines 'This is the last time, the last time, the last…'  shares the universal cry of the addict who knows they must stop, but only has the power to think this when in the grasp of a fix.
It's always hard to select a favourite poem from a collection but Theia ticked all the boxes. I like poems that take on the voice of inanimate objects and I loved the imagery of the collision between the earth and Theia, an impact where tons of molten material hit the earth's atmosphere, before congealing to create the moon in 'a first, only, kiss…' As if this were not enough, I was unfamiliar with the story of Theia, so learned something new. For me, it contained all the elements of perfection.
Outside of Hanging Fire, Louise has written other poems including this one, published by One Hand Clapping.
St. Michael's Churchyard (Autumn)
Even on the calmest evening,
when the trees stand mute
and the leaves of ivy-covered
graves are motionless,
nothing is still. 
White winter pansies shake
their neurasthenic heads on
slender stalks and I remember
your hospital gown; the thinness
of your limbs; your breath's last rush.
Sounds carry, even in
this airless space – voices
of lives that are not our own
insist on being heard. 
Rooks congregate;
a radio blares. Each evening
there's another final harvest.
Other poems by Louise include Chiromancer in The Poetry Shed and Working Late in The Ekphrastic Review. Further examples can be found on Twitter where Louise tweets as @LouisePoetical.
Hanging Fire is Louise's first collection. It's full of magic, mystery and the promise of more to come. I'm looking forward to seeing what follows next year and would recommend Louise as a poet to watch out for in the future.
---
Hanging Fire by Louise Longson is published by Dreich
Louise tweets as Louise Poetical https://twitter.com/LouisePoetical
images without captions in this post are all copyright free from pixabay
---