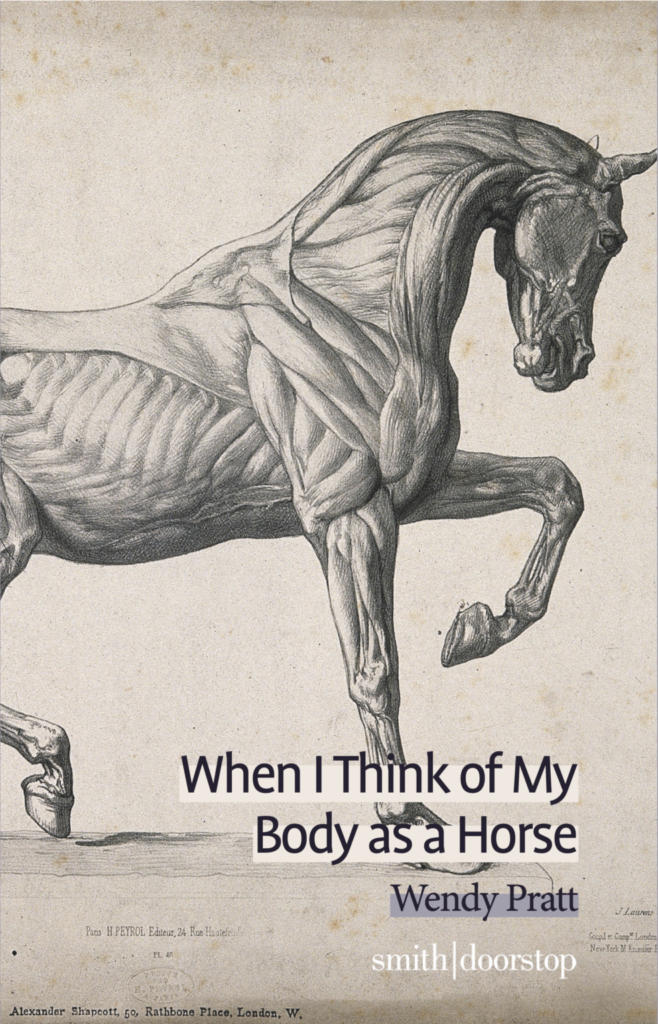 Motherhood is a universal club women take for granted, until they find their entrance is barred. The poems in When I think of my Body as a Horse by Wendy Pratt are about the struggle to gain membership to this club. They are beautifully written poems, but not easy to read because they deal with the death of Wendy and her husband Chris's daughter, Matilda. The collection is a testimony, not only of Matilda's life but also the siblings who were conceived, then lost.
The book follows the journey Wendy and Chris made as they tried to start a family.  Like so many others, they had no idea what the future held. This is poignantly shown in the intimate Sleep (for Chris), which contains a terrible prescience in its final lines. A single star in the sky
can stare straight in at our nudity
our utter innocence.
With no indication of what lies ahead, we are innocent of future delights and tragedies. Instead we live from day to day and in The Language of Pre-Motherhood, Wendy is unable to find the moment of change when the decision was made to become parents.
I don't remember a discussion,
but there must have been one
there must have been a catalyst
the thinnest slice of the thinnest razor
splitting the moment
when we went from being two
to the imaginary three
Membership of the Motherhood Club guarantees common ground, one which offers affinity with strangers and provides topics of conversation which can be relied on. You gain automatic entry with the birth of your first child, while the months prior to birth are like standing in front of its open doors. looking inside. This is the time when baby shopping is validated, and you're exposed to the vast range of products you had no idea existed. You think of your own mother and grandmother, and how it's your turn to perpetuate the archetype of motherhood. Wendy describes this in the language of sainthood.
And I waited meekly for my turn 
as one by one the others were beatified 
rising up: a rapture of motherhood…
… Until there was no one left 
who spoke my language.
The language was infertility. Diagnosis tells the reader there are problems on both sides, with just two lines representing 60 individual months of hope and subsequent loss.
The five years we've been trying
to conceive: a waste of time.
I'm not entirely sure where Matilda first appears. It might be the thirteenth poem titled Embryo Transfer, where Wendy and Chris have to wait 14 days to know if an embryo has embedded.
                   In exactly fourteen days, 
the morning will arrive and you may 
be carted away; a mote of a dream 
on the razor edge slant of the morning's light.
Until then let me keep you with me,
held fast with blood and imagination,
longing and love.
Two poems later, there is the wonderfully titled Nan Hardwicke Turns into a Hare, dedicated to the memory of M. If this is Matilda, these are the poems where she exists. Nesting is about shopping for 'tiny baby bits' and putting the Moses basket together.  My Favourite Memory describes feeling like a Russian doll with infinite babies inside, and the sensation of being kicked 'down into my cervix, pushing up under my ribs'. The poems fill the reader with hope until Tachycardia tells us something has gone wrong. The title is the medical term for a heart rate over 100 beats per minute and this appears to be the point where the baby dies.
The aftermath is Air, a poem which refers to a funeral, white coffin, the tiny grave and contains the heartbreaking cry 'Houdini Girl, how did you disappear?  Air is followed by The Circle of Sisters where Wendy describes the shift from expectant mother to becoming the woman who was different.
I became an embarrassment. I was no longer 
a sister of the circle, but my body 
couldn't forget their dance, so I danced
in the shadow of my sisters, and shouted
my daughter's story through the gaps. 
The drive to become a mother is primaeval. Women are biologically, socially and culturally guided towards parenthood from their earliest moments. Every month contains the possibility of pregnancy, too often followed by loss. In Warning, the reader is reminded how the painful process manifests itself. Like the single reference to five years of trying to conceive in Diagnosis, this poem ends with the painfully brief sharing of two further bereavements.
All the time I am warning others, 
My body has become a broken machine
sparking life then promptly distinguishing it. 
I warn myself not to get too happy, 
not to get too comfortable, or too complacent
with the tiny heartbeats in my womb. But I do, 
and death comes, twice more.
The theme of hares runs throughout the collection. They include the wonderful When Nan Hardwicke Turns into a Hare, Hare Enters the Bedroom, and The Hare Refuses to Speak. Hares are associated with rebirth, the coming of spring and new beginnings. In Hare we're told,
My husband buys me hare-themed
gifts; we have hare cushions
and hare notebooks.
Hares are also icons for fertility and a symbol of hope, but in this collection, it's the pattern of loss which continues. Sixth Birthday shows Matilda's memory living on as Wendy imagines a day spent with Chris and their daughter at the seaside.
In Seven, Wendy visits Matilda's grave and in Packing the Maternity Clothes Away, another step on the journey of acceptance is painfully taken.
How limp they all look 
how dispossessed, how empty.
It's like I dropped them here,
when I heard she was leaving,
and returned seven years later. 
Eight revisits some of the time Wendy and Chris spent with Matilda.
I held you like a doll. 
I should have touched 
those still-wet curls, 
sucked those little fingers
kissed your foot soles 
while you were warm.
In Nine, the annual ritual is played out again, with this poem containing what, for me, is one of the saddest lines in the collection.
The pause where we 
wait to hear your first breath
has lasted nine years.
After a bereavement, common phrases are used by family, friends and strangers, such as time heals, you'll get over it, you can always try again and so on. The truth is, time doesn't heal and you don't get over it. All you can do is learn to live with loss and it's within the process of living where something eventually shifts. This is beautifully shown in Nine Years of Mourning.
There is a snap of umbilicus.
We slide apart. I step away.
Today I climb out of my skin;
my mourning dress. I am nude and white
as a stripped willow branch. I leave the dress behind,
stiff with the sweat of surviving.
The following title poem, When I Think of my Body as a Horse, speaks more about this acceptance.
I do not blame it for lost babies, 
it did its best. I do not blame 
myself for lost babies. I did my best.
I ride my body in a slow companionship.
Comforting it at the end of the day
and I say, Body, you are beautiful, 
you are beautiful, 
There is no language adequate to describe the loss of a child or children, and no social vocabulary for childlessness by circumstance rather than choice. Becoming a family is taken for granted and most couples are not taught how to live fulfilling lives on their own, or given advice for dealing with years of failed attempts to conceive.
In these 50 poems, Wendy has started the essential process of finding ways to speak about losing your babies. In doing so, she has created a collection which will resonate with anyone who has been through a similar situation, or knows somebody who has.
The book ends with hope of a different kind. At the end of the day, two people chose to make a life together, neither of them knowing what lay ahead. Eventually, the time arrives to draw a line under the failed attempts for a viable pregnancy. The decision is made to abandon the fertility clinics and rounds of IVF. The couple accept they are two, and not three or more. The people who met and fell in love continue to exist, and it's recognising and cherishing this partnership that matters most of all.
---
When I Think of My Body as a Horse, by Wendy Pratt, is the winner of the 2020 International Book & Pamphlet Competition judged by Imtiaz Dharker & Ian McMillan. The book can be purchased from the Poetry Society website here
When I Think of My Body as a Horse is Wendy's third full collection. The first collection, Museum Pieces, was published by Prolebooks and the second Gifts the Mole Gave Me was published by Valley Press.
Wendy's website, Wendy Pratt Writing, contains further details of publications and poetry courses.
---